Open-Heart Surgery: A Cornerstone Cardiovascular Program
Open-heart surgery (OHS) has long been a cornerstone of cardiovascular patient care as it encompasses some of the most clinically complex procedures that can be performed to support, renew, or improve heart function in patients. The term typically includes coronary artery bypass graft (CABG) and surgical heart valve replacement (SHVR) procedures, as well as other surgeries. OHS programs continue to support interventional cardiology programs (both within the same facility and at nearby facilities) and transcatheter aortic valve replacement (TAVR) programs.
Despite significant changes and emerging science supporting new care pathways for patients, OHS program volumes have remained relatively steady for some time. Some studies are projecting growth of 5% per year for the next 4-5 years. Portions of this growth will depend on a hospital's ability to incorporate new and emerging technologies into their OHS program, as well as ensure strong partnerships in the region with non-surgical programs.
A significant opportunity that supports both of these initiatives is Open Heart Surgery Accreditation through Corazon. Corazon is the only cardiovascular accrediting body offering specific Open Heart Surgery Accreditation which focuses on the cardiac surgery program itself. Some accreditations do consider OHS in the context of caring for heart attack patients, for instance, but this approach ignores the significant volume of elective OHS procedures performed.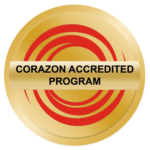 Why Open-Heart Surgery Program Accreditation from Corazon?
Corazon's unique OHS Accreditation approach offers several benefits:
·      Collaboration and open communication to support program success (evidenced by Corazon's 100% client satisfaction)
·      Quarterly interaction with the Corazon experts regarding program performance
·      Marketable achievement to support engagement with other facilities, physician practices, and the community
·      Focus on the cardiac surgery program as a whole
·      Track record of improving critical performance metrics
·      Participation in a national network of accredited programs through Corazon's Accreditation Network (CAN)
·      Opportunity to plan for new and emerging technologies in cardiac surgery
These benefits and the feedback provided to Corazon accredited programs provide an excellent foundation for program growth and strategic planning. Most OHS programs have been operating for some time independently. Corazon OHS Accreditation provides oversight to identify trends before an issue arises, ensures the infrastructure is in place to manage program quality, reinforces clinical best practices, engages team members across the organization, and recognizes the hard work and quality achievements of the program.
What is a Corazon Cardiovascular Service Line of Excellence
Corazon OHS Accreditation is also a crucial component of Corazon Cardiovascular Service Line of Excellence Accreditation. The Cardiovascular Service Line of Excellence designation is awarded to any program achieving accreditation of their most clinically complex service, along with two other accreditations. Based on a successful review of these three programs, Corazon is able to award a Cardiovascular Service Line of Excellence Accreditation with no additional survey or cost to the hospital. This recognition serves as a powerful statement of the hospital's dedication to quality outcomes and continually improving cardiovascular clinical performance to provide excellent care to its community.
Open-Heart Surgery is Constantly Evolving
Beyond these considerations, OHS programs will need to continue to evolve as cardiovascular services shift toward the outpatient setting. Many cardiovascular procedures, particularly minimally invasive procedures, have already been approved to be performed in Ambulatory Surgery Centers, with more anticipated in the near future. As these patients leave the inpatient setting, hospitals will need to anticipate how to backfill these procedures and provide the most appropriate level of care needed in their communities. A strong foundation in cardiac surgery will only make those transitions easier to manage as they arise.
All of these initiatives – remaining aware of emerging trends in cardiac surgery, pursuing OHS Accreditation or Cardiovascular Service Line of Excellence Accreditation through Corazon, and preparing for shifts toward ambulatory settings of care – should be part of a strategic approach to remaining competitive in the cardiovascular space.
Author: Michael Church, Director, Corazon, Inc.