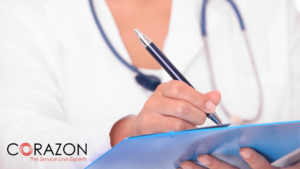 Visual management is a form of communication used in management which has roots in manufacturing operations, like Lean and Six Sigma, but with opportunities to apply to many other industries, including healthcare. The goal of any visual management is to translate information into a format that is quickly and easily understood at a high level. Often, this is based on color coding specific information which can be recognized at a distance, without necessarily needing to read or process the details of what is being presented.
Corazon has adopted these principles into its quarterly dashboards provided to accreditation clients. Through the proprietary AccrediDATA system, program information is synthesized to produce a color-coded summary of performance, including specific critical metrics related to quality and patient outcomes. While the dashboard does include actual data points, the visual management aspect is that each cell within the table is shaded based on a range. Below the 50th percentile is red, 51st to 75th percentile is yellow, and above the 75th percentile is green.
Continuous Quality Improvement
By using visual management, program leaders are able to look at this snapshot and immediately prioritize which metrics to focus on first. Those in red will require immediate action to maintain accreditation and assure program quality. From there, other processes are employed as part of the hospital's continuous quality improvement (CQI) process. This may include focused case review, education for staff members, validation of data accuracy, development of new processes, or other solutions.
Visual management does not only have to be about areas for improvement, though. In addition, it can be used to recognize performance or growth over time. Some managers choose to display these reports in public spaces so that the entire team can see, at a glance, which metrics are on target or not. When a new dashboard is generated that displays mostly green, this can be a boost to morale to show that the team's hard work has paid off with improved outcomes.
While visual management principles do not immediately solve a problem that may be uncovered, they do help managers to "cut through the noise" and prioritize areas which need the most attention. It is also an excellent example of making data work for you, rather than working for the data. Consider how your program uses or could use visual management to streamline these kinds of processes