Since COVID-19 showed up in December of 2019, every area of medicine has been affected, and Cardiology is no exception. The number of cases cardiologists have performed since the coronavirus pandemic began has drastically declined.
Corazon accredits cardiovascular catheterization labs across the country to perform percutaneous coronary interventions (PCIs). Through this accreditation, we monitor client data – including PCI volumes – which exhibits the decrease in elective, emergent, and total PCIs in 2020 Q1 and Q2 due to the coronavirus pandemic.
Decrease in Elective PCIs
The decline in overall volumes began in March 2020, the month in which CMS released their recommendation for hospitals to postpone elective procedures (
Centers for Medicare & Medicaid Services, 2020). From March through May, elective procedures came to a near-halt, with some programs noticing as high as a 90% decrease (Neale, 2020). A PCI can be performed electively; approximately 40% of a program's total PCI volume comes from elective procedures (American College of Cardiology, 2020).
Prior to the coronavirus pandemic, Corazon accredited CCLs performed an average of 33 elective PCIs per quarter. In 2020 Q2, they only performed 19 – a 42.2% reduction (Figure 1).
To the surprise of many physicians, the decline in elective PCI volumes would not be the only volumes to drop as a repercussion from the novel coronavirus.
Decrease in Emergency PCIs
In addition to the reduction in elective volumes, hospitals saw a decrease in their emergency cases. In April, client cardiovascular service line leaders and interventional cardiologists reported that the number of ST-elevated myocardial infarctions (STEMIs) – the most severe kind of heart attack – presenting to their hospital was well below typical.  These STEMI patients are treated with emergency PCIs, and some facilities reported only performing 30% of normal STEMI volume (Wood, 2020).From 2018 Q1 through 2019 Q4, our clients performed 16 emergency PC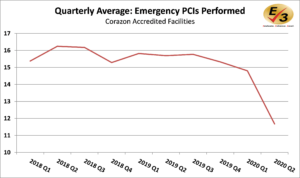 Is per quarter (Figure 2). In 2020 Q2, they only performed 12. Although a change of 4 PCIs per quarter doesn't seem like much, the percent change is -25.7%! The reasoning why programs saw a decline in emergency PCIs beginning in 2020 Q1 continues to be speculated. Hospitals are accustomed to seeing a certain number of STEMI patients every week, month, and quarter. Why the decrease? The most generally accepted hypothesis at this time is that individuals experiencing a heart attack have not been going to a hospital when their symptoms arise out of fear of contracting coronavirus (Wood, 2020).
Decrease in Total PCIs
Elective and emergency PCIs are two types that comprise total PCIs that a facility will perform (together, they account for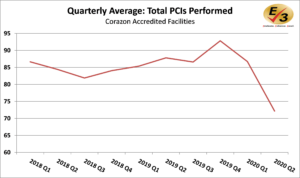 approximately 58% of Total PCIs) (American College of Cardiology, 2020). Due to the scarcity of elective procedures and STEMI patients during the coronavirus pandemic, the number of Total PCIs in 2020 Q1 and Q2 decreased.
From 2018 Q1 through 2019 Q4, Corazon clients performed, on average, 86 PCIs per quarter. In 2020 Q2, they performed 72 – a 16.5% reduction (Figure 3).
Conclusion
Data is a powerful tool – we wanted to share ours.  We look forward to receiving further information surrounding coronavirus – both from our clients and on a national level – so that we may be better prepared to assist our clients in providing safe, quality care to patients. As the continued impact from COVID-19 is realized, hospitals must be well prepared to resume normal operations and manage the backlog of all case types.
Note: The volumes utilized are self-reported from our clients. Forty
-one programs are included. Corazon calculates the quarterly averages, rounding to 2 decimal places. Figures 1-3 were created from these averages. From there, the percent change calculations are performed and rounded to 1 decimal place.
The volume averages written in the explanations for Figures 1-3 are rounded to the nearest whole number for ease of reading.
References
CathPCI Registry Detail Lines Data eReports Dashboard. (2020, April 29). Retrieved September 13, 2020, from American College of Cardiology National Cardiovascular Data Registry.
Press release CMS Releases Recommendations on Adult Elective Surgeries, Non-Essential Medical, Surgical, and Dental Procedures During COVID-19 Response. (2020, March 18). Retrieved September 13, 2020, from https://www.cms.gov/newsroom/press-releases/cms-releases-recommendations-adult-elective-surgeries-non-essential-medical-surgical-and-dental
Neale, T. (2020, July 30). Walloped by COVID-19, US Cardiology Practices Brace for Slow Recovery. Retrieved September 13, 2020, from https://www.tctmd.com/news/walloped-covid-19-us-cardiology-practices-brace-slow-recovery
Wood, S. (2020, April 2). The Mystery of the Missing STEMIs During the COVID-19 Pandemic. Retrieved September 13, 2020, from https://www.tctmd.com/news/mystery-missing-stemis-during-covid-19-pandemic